FAQs
TPMS (Tire Pressure Monitoring System)
TPMS (Tire Pressure Monitoring System)
What Is It and What Do I Do About My TPMS Light?
---
The TPMS system is an electronic monitoring system your vehicle has to monitor the air pressure in your tires. This system will notify the driver if it senses that one or more of your tires is either under or overinflated. Under or over inflation can lead to tire failure, undue tire wear, and reduced gas mileage. Keeping your tires properly inflated will improve and maintain vehicle handling, tire performance and longevity, and load-bearing capability. If you're experiencing problems with your TPMS light, the expert technicians at our Chrysler repair center in Winchester can take a look at your tires and help you with the problem!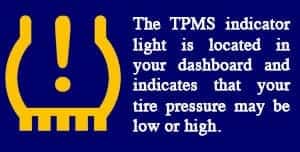 The TPMS warning light will come on when your tires are over- or underinflated. It may illuminate in various different ways such as:
TPMS LIGHT COMES ON WHILE DRIVING
TPMS LIGHT COMES ON AND OFF
TPMS LIGHT IS FLASHING
TPMS Light - What does it mean?
In the event that your TPMS light comes on, do not panic. Your vehicle is just letting you know that one or more of your tires need to be inspected. Remember that your TPMS system is not a replacement for regularly checking your tire pressure. Also, if you have a vehicle with a spare tire, you should check the inflation of that tire every time that you check your other tires. While some TPMS systems monitor the condition of the spare, many do not. Check your owner's manual for information about your spare tire, including the proper inflation level.
My TPMS light came on while driving
If your TPMS light comes on while driving, find a safe place to pull over and do a visual inspection of your tires. You will want to make sure that you aren't driving on a severely underinflated or flat tire. If your tire is severely underinflated or flat, go ahead and put your spare tire on, or if you have roadside assistance, give them a call. If your tires appear to be drivable, proceed to the closest service station and check the inflation level of all four tires and the spare if you have one. With some vehicles, you may need to reset your TPMS light or drive the vehicle before the light will go out. Please consult your owner's manual for details on your vehicle's system requirements.
My TPMS light keeps coming on and off.
Sometimes you may experience your TPMS light coming on and off. The pressure in your tires is affected by the temperature outside. As the air gets cooler the pressure naturally decays, and conversely, the pressure will increase as the temperature rises. You may experience a situation where the light is on in the morning when you get in the car, or after the car has sat for a period of time, and then the light may go off with the warming of the day or while driving once the tires have heated up. In either case, we recommend stopping in at your local service station and checking the level in all tires.
My TPMS light flashes when I start my vehicle.
If, when you started your vehicle, the TPMS light flashed for 60-90 seconds and then stayed on, you have a malfunctioning warning system. That light means that one or more components in the system are not operating. Please call your call service station and schedule an appointment for them to check the system. While the system is not working it will not warn you of tire pressure issues, so you will want to keep a vigilant eye on your tires and have the system repaired as soon as possible.
Proper Tire Maintenance
Remember that proper tire maintenance is vitally important for tire performance and longevity. It affects fuel economy as well as the safety of the driver and passengers in the vehicle. Your TPMS system is not meant to take the place of regular tire pressure checks. If you have further questions about your TPMS light, or your light is on and you need to make an appointment, give us a call at 888-752-2074 or schedule an appointment online to meet with one of our technicians in person at our service center.