Bumper Stickers Only Jeep Drivers Can Use
If you own a Jeep, you have probably tested its off-road capabilities. You might already have a bumper sticker that reads "It's a Jeep Thing," but there are a plethora of hilarious and entertaining Jeep bumper stickers out there. We've curated this list of the best Jeep bumper stickers available for purchase:
No Problem/Problem
Curbs Are Just a Suggestion
Go Jeepin'
Dinosaur in Jeep Over Moon
Jeep Girl
Fix it. Mud it. Break it. Repeat.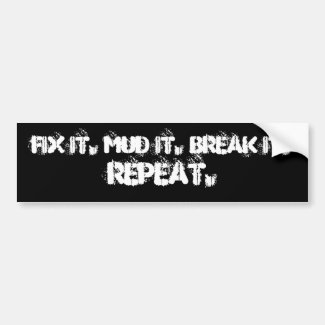 FIX IT. MUD IT. BREAK IT. , REPEAT. BUMPER STICKER by Eagle_people
Jeep Freak!
My Other Jeep is a Jeep.
Black Jeep of the Family.
Black Jeep of the Family Bumper Stickers
by
slguldi
Eat, Sleep, Jeep.

eat sleep jeep bumper stickers by AV_Designs
Like tattoos, bumper stickers can be addicting.  Once you get one, you want another and another.  So go easy decorating your Jeep and be careful out there on the trails!