5 Tech Features Parents Will Love in the 2017 Chrysler Pacifica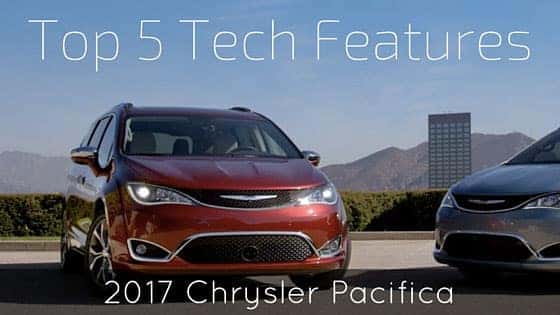 If you're looking for a new minivan in 2017, congratulations! You've inadvertently entered the market just when the new Chrysler Pacifica has as well. Car and Driver said this about the 2017 Pacifica: "It's an all-new minivan, with a new name—and by our estimate, it's also the best."
We'd say that's an understatement at least! Alongside all of the
incredible features for the kids
, the 2017 Chrysler Pacifica also packs some powerful tech that the adults will love as well. Here we'll break down our five favorite features.
1.UConnect Theater
There's one feature minivans are known for: A variety of entertainment options. So often they don't have a solution ideal for everyone, though. Nowadays we all have our devices at hand all day, every day and a seat-mounted DVD player just doesn't cut it anymore.
Enter the 2017 Chrysler Pacifica and its wealth of entertainment options. Your posse will enjoy a 10.1 inch dual-screen Blu-ray entertainment system that even allows instant connectivity to a variety of smartphones, laptops, tablets and gaming devices to ensure the trip never runs out of fun.
2. Stow 'n Go / Stow 'n Vac
One of the key features a minivan offers is tons of interior cargo carrying capacity. The only problem with that is there are often a lot of things in the way that disrupt all of that raw hauling space. With the 2017 Pacifica, put your worries aside. It's the only van on the market with Stow 'n Go on every row. Say that five times fast! What that means is that the Chrysler Pacifica has over 240 different seating configurations to fit whatever you need to haul.
One other feature you might not notice at first glance is the Stow 'n Vac feature. You'll be able to tackle any road trip crumb-tastrophies with the grace of a Victorian queen, as the hose extends from the trunk all the way up to the dashboard. Now that's riding in style.
3. Advanced Safety and Security
Safety is essential for any great new vehicle on the market, and the 2017 Chrysler Pacifica has it in spades. Here's a rundown of just a few of the over 100 safety and security options you have to choose from:
Adaptive Cruise Control with Stop and Go: The next generation of cruise control elevates the 2017 Pacifica to near-AI levels of intelligence. Using advanced radar and video sensors, the Pacifica can maintain save distances from other vehicles, stop in traffic and then get moving again seamlessly. Welcome to the future.
360° Surround View Camera: With 4 rooftop cameras, the Chrysler Pacifica automatically stitches a full panoramic view of everything surrounding the vehicle. You'll never have to worry if something is creeping around in your blind spot again.
Rear Back Up Camera: This wide angle camera shows you your ideal parking path, as well as anything that might be sliding in from the side to disrupt your path.
4. 20-Speaker Harman Kardon Audio System
There's not much we can say here about this feature. It's really something that speaks for itself. With a massive number of incredible quality tweeters, subs and mid-range speakers expertly placed all around the interior of this minivan, your family will be fully immersed in whatever melodic tones the designated car-DJ decides to play.
5. Hands-Free Sliding Doors & Lift Gate
Button-activated doors just met their match. With the all-new 2017 Pacifica's fully motion-activated doors and life gate, you can finally fulfill your dreams of being an all-powerful wizard. You can simply wave your hand (or foot for the lift gate) and the doors will confidently and cleanly sweep open to greet you.
Those are just a few of the incredible list of features that make the 2017 Chrysler Pacifica an incredible vehicle for kids and adults alike. You can find more on the
Chrysler website
.
If you're in the Winchester area and interested in taking a new Pacifica out for a spin or purchasing a brand new model for your family, you can browse our
inventory of new vehicles
today. Better yet, give us a call at (888) 312-2991 today and save time finding exactly what you need!